May 18, 2018 | Mumbai
FreightBazaar, a unique cloud based integrated B2B freight collaboration platform that improves reliability and efficiency of freight transportation, has raised undisclosed amount in Pre-Series A investment through ah! Ventures. Omphalos Ventures India led this round of investment.

FreightBazaar platform addresses the challenges of unorganized and unreliable long-haul transportation by instituting a set of technology based processes, transparent communication, and automation along with rigorous operational procedures that enable companies to continuously monitor KPIs and improve performance.
As a proven Freight Transportation Platform enables shippers and truck suppliers to manage the end-to-end transportation process including truck sourcing, freight rates negotiations, delivery tracking, payment and documentation.FreightBazaar has received validation from key customers and eco-system partners including India's top 3PL, manufacturing and supply chain companies. Companies of various sizes are using the platform to move freight of various kinds such as food, cement, chemical products, automotive components, electronics, tyres and telecom components. The platform also has a proprietary advanced Freight Intelligence analytics framework to provide various real-time decision-making and historical insights for continuous improvement of company's transport operations.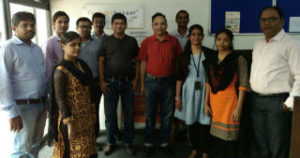 Ganesh Rewanwar, Co-founder & CEO, FreightBazaar says: "For the past few years, we have been working tirelessly to bring much needed structure, technology,  efficiency and reliability into the way long-haul transportation has been managed in India. The funding will enable us to scale up our operations, convert strong demand pipeline and expand our presence in key cities & build more automation"
"It has been quite a journey since our early days when we had decided to build a truly integrated platform that did much more than just connecting the two parties. Organizing an unorganized supply has been our major objective. We have remained focused on creating an environment where transactions can be executed between the two parties with 100% confidence and reliability". Says Bhaven Shah, Co-Founder FreightBazaar." "The unique collaboration platform has dynamic supplier verification and rating system to reduce supply risk. Furthermore, IOT based monitoring and smart contracts improve transparency and efficiency thereby reducing the overall cost of ownership of managing logistics supply-chain. We look forward to playing more active role as a positive change agent in the transformation of the logistics sector worldwide". Adds Bhaven Shah.
Besides reducing the total cost of ownership for shippers, FreightBazaar has developed a set of tools and value-added services for supplier partners and drivers, as they are key stakeholders in the eco-system. FreightBazaar was the winner of Automotive Tech Startup of the Year (2017) and has received the honor of Best Online Truck/Transport Marketplace (2015).
Mr Sagar R, Partner – Omphalos Ventures India LLP Stated "FreightBazaar has a unique integrated offering in the growing logistics space and has a strong team of seasoned professionals, giving them the ability to scale while keeping the business sustainable. We at Omphalos believe that FreightBazaar will redefine the boundaries of logistics business in India."
Giving an investors' perspective, Abhijeet Kumar, Co-Founder of ah! Ventures, said, "Indian transport market is expected to grow worth $300 billion by 2020, which in itself makes the sector a lucrative one to invest in. In addition to that, given the background of the founders and their in depth understanding of the business, this enterprise has from the very beginning started off on the best foot possible. Transport business in India, as is in any part of the world, closely related to the country's infrastructure and the social & financial condition of the people working in this sector and only a team with understanding of this fact can successfully drive a business in this sector, to the top. We at ah! Ventures see that spark in Frieghtbazaar's team and we are sure to see them being game changers in this industry."
About FreightBazaar
FreightBazaar is an intelligent cloud based collaboration platform. The logistics technology platform reduces transportation inefficiencies, brings in standardization, and provides self-service tools, bringing automation and analytics to the forefront. The process of supplier discovery, price discovery, demand discovery, bidding, contracts, IoT-based trip monitoring, ERP integration, performance dashboard, payment, Billing and documentation have been streamlined so that there is efficiency and reliability at every level. Suppliers are able to provide better services and manage their business effectively through technology. This leads to more structured, predictable and data-driven logistics operations. Lastly, as everything is digital and accessible to all, there is complete transparency, which in turn helps to build trust and improves organization governance. Many manufacturing, supply chain, 3PL, enterprise and SME customers use the collaboration platform to improve both top line as well as bottom line of their transport operations in a reliable, structured way.
About ah! Ventures

ah! Ventures is a startup focused growth catalyst that brings together promising businesses and investors by creating wealth creation opportunities for both. ah!'s unique model serves investors, entrepreneurs & enablers through a unique blend of customised services, skill, and industry & domain experience.
Founded in 2010, ah! Ventures has systematically disrupted India's early stage funding ecosystem through its innovative approach toward startup investing. First of its kind initiatives like the CLUB ah! Network & Platform – India's first full-spectrum startup investment network & platform, ah! Angels – India's largest angel network, ah! Seeders and ah! VC networks – India's first seed & VC investment networks respectively, have brought together and integrated the otherwise previously segregated startup funding lifecycle, under one roof. This, coupled with ah! Impact network – an impact investment network for investing in social enterprises, ah! Mentors network – a mentor network to assist startups in their growth and expansion, ah! Marketplace – first and only one-stop shop for accredited startup service-providers, ah! Gyan Guru – a startup focused edu-knowledge platform, STARup – a startup summit poised to be the biggest and the best in India, has today made ah! Ventures not just one of India's most respected change leaders, but also a formidable industry force to recon with. ah! has recently launched its unique mobile app (on iOS and Android app stores) to cater to the ever-growing startup ecosystem.