Intelitaap was founded by Sunny Harisinghani and Aniruddha Nanivadekar who have extensive experience of working in Video Analytics Industry. They started Intelitaap to give actionable analytics to the retailers in a more efficient and cost effective way.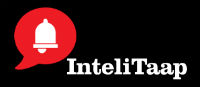 Intelitaap's predominant location based technology is very scalable, time spent by consumer's if detected in any physical space can provide better value proposition for industries like  Retail, Stadiums, Airports, Smart Cities. This is exactly what makes the Intelitaap offering so valuable to the retail sector.  The company is creating a category of data mining and analysing in physical spaces. A true and organic way of digitization and omni-channel engagement through data.
Sensors are installed across the store to understand the consumer experience inside the store. Integration with different systems like PoS enables the retailer to understand the efficacy of the Aisles and Categories of the Store. A Dashboard helps to visualize the data and give the holistic view of the store to the retailer.                       
"Through STARup's 'MONEY ON THE TABLE' (MOTT) Funding Format we are always on the lookout for companies that can effectively make a difference in their chosen space. Intelitaap had all the credentials that we were looking for. I am personally excited to see Intelitaap make it through the MOTT format and am sure all the investors who took a call to invest in Intelitaap after just 20 short minutes of interaction will be very happy with their investment." Said Harshad Lahoti, Co-founder ah! Ventures.
'MONEY ON THE TABLE' or MOTT is a new format under the STARup brand where carefully handpicked early stage companies get the chance to present to investors who have only a few minutes to make their decision to invest across the table.
---
About Intelitaap
Intelitaap provides In-Store Analytics for Retailers. We capture consumer data using sensors (installed near product shelves) flashed with our proprietary firmware. Our learning engine on Cloud uses this data to compare the time spent on each product shelf to the goods sold. Our cloud is connected to the POS & door counters (optional) which gives a clear 360 degree understanding of why something is not getting sold. Our USP is that our product analyses consumer behavior inside the store without the consumer having to switch on GPS, Bluetooth, Wi-Fi or even cellular data. We are a SaaS based company, so we charge our customer on a monthly basis. Pricing depends upon the area of the store and the number of devices to be installed in the store.
About ah! Ventures

ah! Ventures is a startup focused growth catalyst that brings together promising businesses and investors by creating wealth creation opportunities for both. ah!'s unique model serves investors, entrepreneurs & enablers through a unique blend of customised services, skill, and industry & domain experience.
Founded in 2010, ah! Ventures has systematically disrupted India's early stage funding ecosystem through its innovative approach toward startup investing. First of its kind initiatives like the CLUB ah! Network & Platform – India's first full-spectrum startup investment network & platform, ah! Angels – India's largest angel network, ah! Seeders and ah! VC networks – India's first seed & VC investment networks respectively, have brought together and integrated the otherwise previously segregated startup funding lifecycle, under one roof. This, coupled with ah! Impact network – an impact investment network for investing in social enterprises, ah! Mentors network – a mentor network to assist startups in their growth and expansion, ah! Marketplace – first and only one-stop shop for accredited startup service-providers, ah! Gyan Guru – a startup focused edu-knowledge platform, STARup – a startup summit poised to be the biggest and the best in India, has today made ah! Ventures not just one of India's most respected change leaders, but also a formidable industry force to recon with. ah! has recently launched its unique mobile app (on iOS and Android app stores) to cater to the ever-growing startup ecosystem.