Corefactors, the integrated sales and marketing company, has raised an undisclosed amount of Pre-Series A funding through ah! Ventures angel platform. Correctors had raised its last angel round funding also through ah! Ventures. Current round includes new investors such as Mr. Yogesh Chaudhary of Jaipur Rugs, Mr. RadhaKrishna Thatavarti of Oxyloans and Mr. Jitender Lahori of Emirates Airline, in addition to the last round investors including Mr. Yusuf Hatim, Amynk Group, UAE and Mr. Nagarajan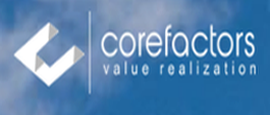 With this fund, Corefactors aims to begin the process of geographical expansion into key markets at a good clip. They also plan to foster growth with enhanced product pipeline and strategic product bundling. The funding will act as a shot in the arm for Corefactors to take its sales and marketing product Teleduce to the next level. It will bring much easement for Corefactors in its goal of acquiring customers across the globe.
"This round of funding with ah! Ventures will help us in identifying and mitigating challenges in global acquisition while propelling growth. We will be able to enhance the product pipeline of Teleduce and prepare for geographical expansion into key markets. Needless to say that we are excited to partner with ah! Ventures for our journey ahead," said Sharmila Sundaram, CEO of Corefactors.
Serving more than 450 customers and 2000 users across the country, Corefactors' Teleduce which helps small and medium businesses to manage sales & marketing functions. Tel educe enables seamless experience for businesses from sales to marketing to customer retention to customer support. Our vision is to ease and help small and medium businesses to generate revenue faster.
Having helped businesses across finance, banking, healthcare, insurance real estate, education, professional services and so on. Teleduce now wants to prepare itself for setting off a journey to cater to the needs of global clients.
Earlier Teleduce has won awards such as SoftwareSuggest Expert's Choice 2018, Hot 100 Race to Grace, CIO Review 20 Most Promising Marketing Technology Companies, and so on.
About Corefactors
Born in 2013, Corefactors is a progressive and go-ahead company focused on offering integrated sales and marketing solution. With its award-winning product Teleduce, Corefactors helps startups, SMBs, and enterprises to capture, manage, and nurture leads.
Founder Contact: Sharmila Sundaram | sharmila.s@corefactors.in | +91 8050604280